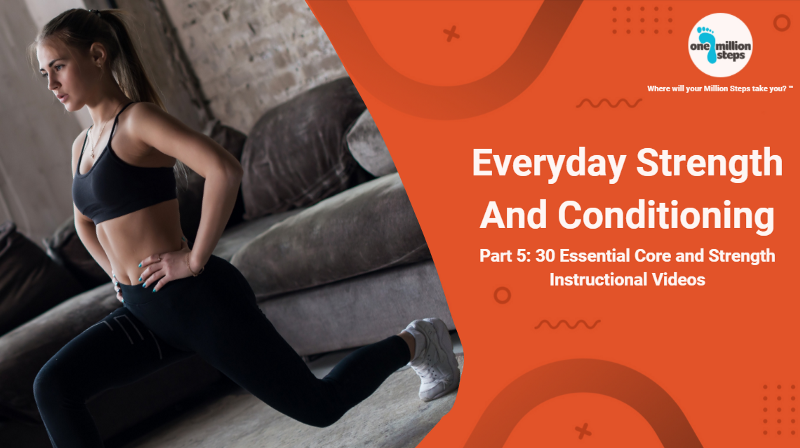 Part 5: 30 Essential Core and Strength Instructional Videos
This is a key part of our toolkit for life and our vision for of "A Celebration of Movement and Wellbeing"
We started off with about 50 exercises, narrowed it down and looked around for a set of 30.
We knew we needed full instructional videos NOT ROPEY DODGY PICTURES!
And we wanted voice-over instructions too.
And that's what we will deliver as a whole package below
BUT over the next 5 days, we will split this package of 30 videos into six videos each day.
Why?
We want you to explore the exercises and try them out in a curious way. As if it's the first time you have ever seen them.
Almost as if you were coming to them in a mindful way and with one of the six attitudes of mindfulness; with a child's mind.
Check to see how your body feels when you try each routine. Be aware of any sensations, take it easy and slow.
It's just an exploration stage. No need to go all wild. You have the rest of your life to keep coming back to them.
But before we proceed …
THE SAFETY AND HEALTH WARNING
Before we proceed, we want you to understand that these articles and the content we provide are based on simple daily increments and it is EXTREMELY important not just for understanding what success is but also how not to injure yourself. (i.e. it's not success)
As a Million Step Participant, you have already agreed to our health and guidelines on safety. BUT we ask that you read them again HERE.
For anyone else reading this, again, we ask that you use common sense, do only what you can and also read our guidelines HERE.
The 30
1 — Bodyweight Squats
2 — Reverse Lunges
3 — Donkey Kicks
4 — Side Plank
5 — Superman
6 — Bicycle Crunches
7 — V-Sit w Leg Extension
8 — Kneeling Push-ups
9 — Banded Lateral Walk
10 — In and Out Jumps
11 — Glute Bridge
12 — Jump Squats
13 — Heel Taps
14 — Bird Dog
15 — Crab Toe Touch
16 — Frog Pumps
17 — Mountain Climbers
18 — Plank
19 — Side Lunge
20 — Tricep Dips
21 — Commando Plank
22 — Curtsy Lunge
23 — Froggers
24 — Jumping Lunges
25 — Leg Extension
26 — Plank w Single Leg Raise
27 — Russian Twists
28 — Scissor Kicks
29 — Single Leg Glute Bridge
30 — Straight Leg Toe Touches
The Complete Million Steps Strength and Conditioning Instructional Videos
To View The Full Playlist, please click here
REMEMBER
Little increments. NO GUNG HO!
FORGET "No Pain, No Gain" models. By Taking things light and easy, you can come back to these when you feel its right.
We covered this in our article "Greasing the Groove".
Listen to your body. Try a little more every day.
Stop as soon as you feel you have reached your optimal amount. And don't reach a point where you are forcing yourself.
Even if you reach the same point as yesterday, that's ok. Give yourself a big cheer. You turned up, and you did your best.
There is always tomorrow and the day after.
And every day you will grow in strength, and as a person, as your repeat and persist and make it a habit.
To find out more about the Million Steps Challenge and how we can help you, your business or charity, please visit https://millionsteps.com
Or Register your organisation interest: Million Steps CoVid-19 Package here