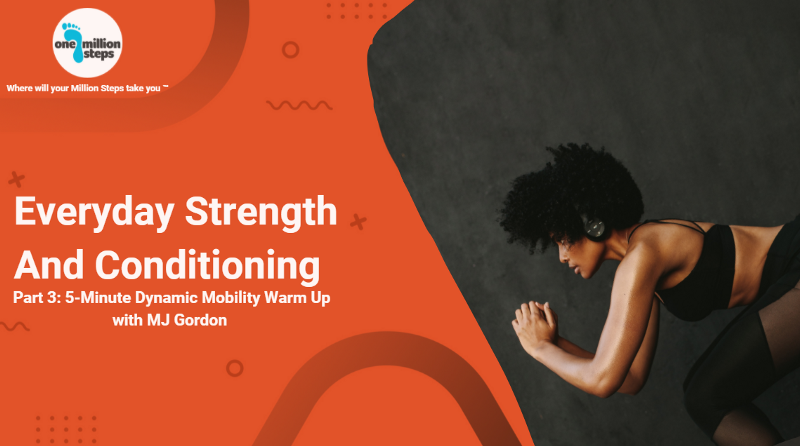 Part 3: 5-Minute Dynamic Mobility Warm Up with MJ Gordon
But before we proceed …
THE SAFETY AND HEALTH WARNING
Before we proceed, we want you to understand that these articles and the content we provide are based on simple daily increments and it is EXTREMELY important not just for understanding what success is but also how not to injure yourself. (i.e. it's not success)
As a Million Step Participant, you have already agreed to our health and guidelines on safety. BUT we ask that you read them again HERE.
For anyone else reading this, again, we ask that you use common sense, do only what you can and also read our guidelines HERE.
We wanted something you could use:
in the morning
before going for a walk or run
when you were feeling a little sluggish
it should include all the elements of a good old fashioned loosening up of the muscles and joints and a slow build-up to getting that blood pumping.
it had to be 5 mins.
5-Minute Dynamic Mobility Warm Up with MJ Gordon runs through the following order:
neck rolls,
arm circles,
loose arm swings,
hip rotations,
knee rotations,
squats,
alternating reaches,
side to side step skaters,
knee cross standing crunches,
overhead reaches and
jumping jacks.
All in 5 mins and in an extremely gentle way.
We hope you enjoy it as much as we do.
To find out more about the Million Steps Challenge and how we can help you, your business or charity, please visit https://millionsteps.com
Or Register your organisation interest: Million Steps CoVid-19 Package here