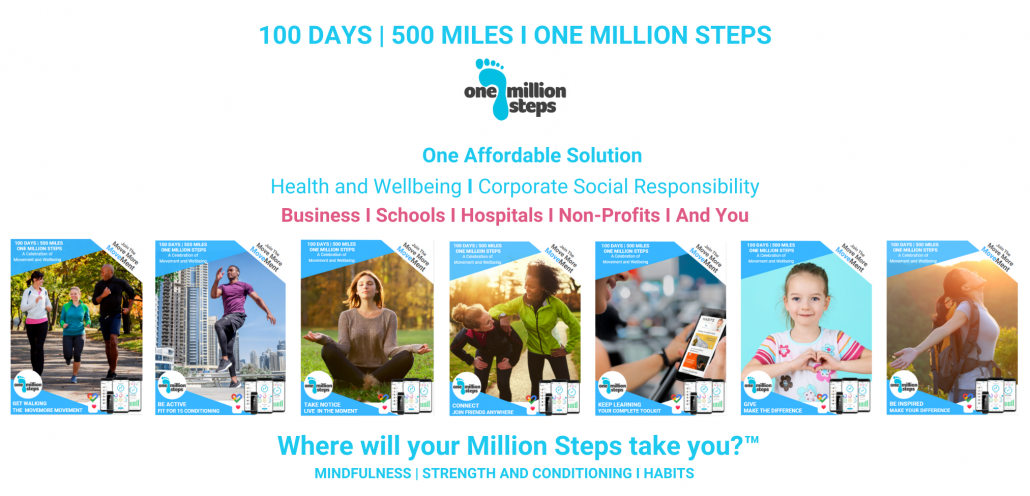 About One Million Steps
One Million Steps: Building a Healthier World for Giving® is a Web/Mobile App integrating health challenges with fundraising to drive social impact and change.
At its core is The Million Steps Challenge where participants, cover 500 miles in 100 days and fundraise for good causes close to their heart.
We have helped non-profits raise over $150,000 and our participants have walked over 900 million steps. That's 450,000 miles or 18 times around the planet!
Awards and Recognition for One Million Steps:
The Prestigious Google LaunchPad., Google London
Proud alumni of  The Accelerator Academy, London, and ReaktorX Warsaw, Poland
Unltd Do It Award
Fairwood Trust Award
School of Social Entrepreneurs Award
Fellow of School of Social Entrepreneurs
Seedbed Incubator Plymouth
Entrepreneur Spark Accelerator Cardiff 2016
Bath University Social Innovation Programme
With integrated Bluetooth smart pedometers and management dashboards, you use your supporter's journey to engage with your brand, message and mission and support good causes with our integrated fundraising platform.
We see the challenge as a journey. And unlike other challenges, we feel it would be a huge missed opportunity for participants and organisations not to take important health and well-being lessons with them and to their communities.
Completing one million steps/500 miles in 100 days is amazing stuff but we want participants to meet the NHS and Centre for Disease Control guidelines for healthy living
So we provide your staff and supporters with videos and content covering:
– An introduction to mindfulness with meditation ,
– Body conditioning and strength training exercises
"Where will your Million Steps take you?" is our mantra!
Integrated management dashboards give organisations, from small community groups to the biggest corporates and charities, the tools to track progress and fundraising levels of users for greater management and engagement.
One Million Steps is the affordable, resource-lite fundraising challenge for users, community groups, charities, gyms, GP surgeries to tackle the health and wellbeing crisis and build a healthier world for giving
Mission: To harness and amplify the energy, passion and potential of People, Businesses and Good Causes and raise £100 million for social good in 5 years
Vision: Create the No.1 Digital Eco-system for verifiable challenges with integrated fundraising, community engagement and corporate social responsibility
---
Founder
Ranjit Ghoshal, Founder and CEO of One Million Steps: Building a Healthier world for giving®
Ranjit left university and took on the role of News Editor and Sub Editor for the Big Issue Cymru
His passion for work within the homeless sector led to him joining Cardiff Council on a traineeship.
He spent 10 years in front-line and strategic levels in social housing and homelessness and managed a homeless hostel, sat on task and finish groups, Welsh Government Committees and advised housing related organisations across Wales.
He has a strong passion for projects in community engagement and capacity building, prison and army leavers, substance misuse and mental health.
With a combined 20+years years as a Board Member/Trustee on three large charities: Chartered Institute of Housing, Shelter Cymru, and TPAS Cymru, he strongly believes social good businesses can be a powerful force for change.
For 18 months he was the volunteer Deputy Manager for Oxfam at the showcase Cardiff Boutique and also volunteered in Belarus; working to refurbish an Orphanage for disabled 3-6 year olds.
Always curious about what makes people tick, Ranjit is passionate about how we can make the world a better place, and importantly how we can give people and organisations the tools to do it themselves.
Ranjit is a Board Member of RAIN Oregon, a 501(c)3 non-profit venture catalyst organization supporting rural communities build thriving economies in The State of Oregon, USA
FOUNDER'S BACKSTORY TO MILLION STEPS
My background is in social housing and homelessness prevention. I worked in communities, as a housing officer, front line on street homelessness and I also managed a homeless hostel.
I worked with community groups in Tenant Participation, with local businesses and sat on the boards of three Wales national charities and worked in a Welsh Government organisation across Wales to advise Housing-related organisations.
And I saw first-hand how difficult it was for both small and large organizations to resource and manage launch events for fundraising.
Critically, I heard from dozens of small to medium-sized businesses that really wanted to help community projects or do social good but also struggled to launch events.
And then, one day I said to myself
"Can one person start something that can raise $ 100 million for social good in 5 years?"
This became my North Star and guiding principle. As the idea developed, we worked with a critical vision:
To create a level playing field so the small community group and greengrocer to the largest charity or corporate all have the same powerful tools to support social good.
And we began to build out Millionsteps.com: A platform for launching business and charitable health and wellbeing challenge events at scale for EVERY organization to be part of.  
A start-up development manager (Caleb) at startups.com put it perfectly:

"Hold on! Are you saying you are building a Pelotonia (https://pelotonia.org/) for EVERY organization, not just one for the biggest?"
Our core National Walking Challenge will always be One Million Steps.
We know how powerful a 100-day celebration of movement and wellbeing is for participants.
This is why we have included Introduction to a Mindful Life with audio, our Fit for 15™ Strength and Conditioning program with videos and will soon complete our vision with a Yoga for Life program.
We see the challenge as a toolkit for life, not just for participants, but for communities and our platform has followed health campaign modelling of accessibility, acceptability, and affordability.   
We also have multi-sector applicability, especially in Person Centred/Value-Based Health Care (VBHC) for prehabilitation, and obesity and type 2 diabetes intervention
At Million Steps, we have a deep sense of what our value pillars are, to propel better societies, amplify sustainable solutions and our responsibility to create the level playing field for our vision. We
> provide the opportunity to organisations of all sizes to propel better societies

> build an equitable and sustainable tool for health bodies based on Value-Based Health Care principles

> connect the dots and harness and amplify the passion, energy and goodwill of people with their communities, businesses and social good.
We hope you join us on our journey.

Contact us on support@millionsteps.com